Discover fast, reliable Chicago boiler repair and installation when you call (773) 342-4338 today. We will set up an appointment for one of our heating specialists with boiler experience to come out and assess the situation. Find out what money-saving coupons we currently have when you click here.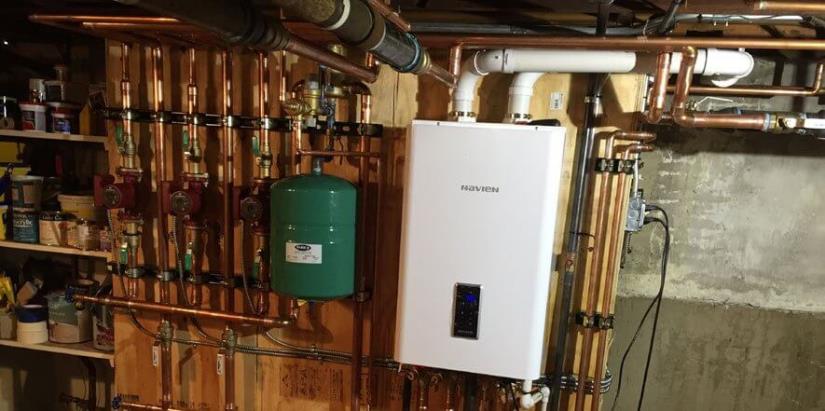 The concept of using hot water or steam to produce heat has been around forever, and boilers are still used today to heat homes and businesses. When a boiler is being used to provide the heat, there is typically a steam radiator or baseboard heaters. Whatever system is used in your home or business, it is important to keep it running efficiently so you always have the heat you need.
You can read through a list of reviews of our services from people in your area when you click here now.
Does My Boiler Need Repairs?
Aside from having no heat in your house at all, the signs telling you that your boiler needs repairs can be quite subtle. You may notice rumbling sounds known as "kettling" in the boiler. This happens when a white residue known as limescale builds up on the heat exchange of the boiler. Limescale is a by-product of having hard water in your household. You may also hear gurgling sounds or whistling as air becomes trapped in the boiler. If the boiler seems to be working properly, but shuts off before the rooms reach the desired temperature, this is also a sign something isn't right.
Switching Up Your Older Boiler
Boilers are quite resilient, lasting for up to half a century in some cases. Many homeowners will never even consider having their boiler replaced, but sometimes it's a wise choice even if that upper age limit isn't close to being reached. If the boiler has been damaged and repairs are too costly, a replacement may be recommended. If newer, more energy efficient models of boiler are available that will save quite a bit on your monthly heating bills, a replacement might make sense.
Benefits of Professional Boiler Service
Whether you need a repair or a full replacement, choosing professional boiler service is the only way to go. When you use a professional, they will test for CO2 emissions so there is no carbon monoxide inside your home, they will obey all the local building codes and follow bylaws and they will be familiar with each manufacturer, keeping your warranties intact during new installations. Your boiler is responsible for keeping your house warm and comfortable, so make sure you take the repairs or replacement seriously.
HOW ARE WE DIFFERENT?
What sets us apart from other HVAC companies?
We have been around since 1985, and have over 30 years of experience.
We serve over 200 towns throughout the Chicago area.
Our team is NATE and EPA certified, and comply with industry codes and standards.
We do not subcontract our work to third parties. Your technician is a full-time professional at TDH Mechanical, handpicked by Tim himself.
We have a team of loyal professionals, some of whom have been with us for several years. This results in dedicated experts who are interested in building long term relationships with our customers.
We are authorized Trane dealers and offer the Trane Satisfaction Guarantee.
Top notch, truly personalized service from start to finish. No matter the extent of the job.
There is no problem too small or overwhelming for our team to tackle. We treat each and every service call with the same level of urgency, whether it's a new furnace installation or air duct cleaning. All of our technicians carry a customer-first mindset, allowing you to benefit from unparalleled workmanship and a close attention to detail. Our goal is the same as yours: to help you experience a truly comfortable home environment without unexpected interruptions from your heating and cooling system.
Get Your Free Quote
Fast, reliable, and quality results. Contact us for a free quote today.
Get Started
Providing Boiler Repair and Replacement Services in Chicago Since 1988
With a functioning boiler, it's easy staying warm in Illinois's winter months. But when your boiler acts up, a few blankets and a pair of slippers might not be enough to ward off the cold. With over 35 years of experience maintaining hydronic heating systems, TDH Mechanical, Inc. has established itself as a trusted HVAC company in the Chicago area. In that time, we've developed a true understanding of boiler systems and how to properly maintain, replace, and repair them.
Reach out to us at
(630) 200-5399
to learn more about boiler service in Lincolnwood and Oak Park.
How Do Boilers Work?
It can help to think of boilers as a unique type of water heater. While conventional heating systems disperse heat using air, boilers use hot water and pipes. While this heated liquid flows through your home, it distributes heat through your radiators and other linked devices. Now cooled, the water returns to the boiler's tank to be reheated and start the cycle over. You may also hear this subset of HVAC systems referred to as water-based or hydronic. In most homes, natural gas is used to power the boiler's heating elements. A simple step-by-step list of boiler operations is below:
The home's thermostat tells your boiler it's time to turn on
Your boiler's heating element heats water in its tank
After the water reaches a specified temperature or turns into steam, the next stage begins
The boiler pushes the steam or water through your radiators or baseboard radiant elements
The water returns to the boiler to be reheated
The thermostat detects when your home reaches the desired temperature and shuts off the boiler
What to Look for in a Boiler Contractor
Your hydronic heating system represents a substantial investment and is a key part of comfortable living. Hiring a reputable HVAC expert to repair, install, or maintain it is the best thing you can do to protect your money and your home. But there are a lot of boiler experts in Oak Park and the surrounding areas. Which one do you choose? How can you tell which is worth the investment? Here are five things you should look for in a boiler contractor:
Current Insurance and Licensing: Illinois has its own requirements for HVAC contractors, and you need to hire someone who meets them. The easiest sign someone is authorized to work on your boiler in Chicago is a current license number. Check their website to see if it's provided. If not, call and ask for the number. If they can't provide it, go elsewhere.
Comprehensive Insurance: What happens if your contractor injures himself or herself while in your home? If they damage your property—by puncturing your boiler's tank or causing a leak, what steps will they take to correct it? Verify they carry insurance and also have bonded technicians.
Glowing Reviews: Check out their online review profiles. What do former customers say about them? Has anyone you know in Chicago worked with them before? If so, ask if they'd recommend them. Also, look to see how they respond to any negative reviews, since occasional issues or misunderstandings happen with even the best contractors. If not handled professionally, you'd likely be better off going elsewhere.
Experience and Expertise: When it comes to boiler service in Chicago, expertise and experience should be at the top of your list of wants and needed. Ask how many years of experience they require their HVAC technicians to have. Make sure that the company has a proven history of providing customers with expert boiler repair and installation.
Warranties and Guarantees: Sometimes things go wrong with new hydronic systems. Or a repair doesn't hold. In these circumstances, you want to ensure you have a company who's got your back. When analyzing your choices, inquire about the guarantees and warranties they hold. At minimum, your satisfaction should be acknowledged.
Special Offers and Rebates: Different companies offer different deals. Visit their website and take a look at their special offers page. Also ask if they help submit you for Illinois's rebates for efficiency when you install a new boiler. Rest easy in knowing that at TDH Mechanical, Inc., we are always happy to help.
Our Full Selection of Boiler Services
Boiler Repair
Though boilers break down less often than conventional heating systems, they still need service on occasion. Electrical components come loose. Pilot lights flicker out. Save our number the next time you need to fix a problem with your heating system. You'll soon learn why so many people in Chicago trust us with their boiler repairs.
Get Heat Back
Boiler Installation
One of the most best ways to keep a house warm while also enjoying cleaner air and superior energy savings is with a boiler. When you move into a new home or are constructing one, consider having a boiler installed with a separate air conditioner instead of a forced–air system. Talk to our professionals to learn about the advantages of a boiler heating system.
Be More Efficient
Boiler Maintenance
You must take regular care of a boiler system in order to enjoy the advantage of its long lifespan. Otherwise, you're just sentencing it to an early grave. Our HVAC maintenance professionals will come to your house each fall to inspect, clean, and tune–up your boiler. To make this process automatic all you have to do is sign up for one of our excellent maintenance plans.
Keep It Running
Call TDH Mechanical, Inc. for Professional Boiler Service in Oak Park and Chicago
TDH Mechanical, Inc. sets ourselves apart from other HVAC companies in Chicago and surrounding areas. When it comes to providing boiler service, we're dedicated to providing top-notch service and putting your needs above all else. We're so confident you'll want to use us again, that we back everything we do with a satisfaction guarantee. So, if there is ever a problem with how we handled your boiler installation or repair, just reach out to us at (773) 342-4338. We'll make things right.
The next time you're in need of hydronic system service, you need a team you can trust. Fortunately, if you call Chicago home, we're just a phone call away. TDH Mechanical, Inc. aims to provide an excellent experience at every job. Reach out to us today at (630) 200-5399 to schedule service.
Boiler FAQs
How Often Does My Boiler Need Service?
We recommend having your boiler serviced once a year. This will maximize its efficiency and allow us to spot any potential red flags. These yearly boiler tune-ups will reduce your need for future hydronic system repairs in Chicago.
Can My Boiler Heat My Water, too?
Yes, with a modern high-efficiency boiler, you can tackle both your home's domestic hot water needs and heating requirements, potentially leading to space and gas savings. An add-on to your existing system may need to be installed to accomplish this dual functionality.
What Do I Do if My Boiler Starts Leaking?
If you suspect your boiler may be leaking, do the following:
Determine the source of the leak
Turn off your water to prevent further damage
Call (773) 342-4338 to get the problem fixed
Will a New Boiler be Quieter?
This depends on a number of factors. Extremely old boilers are loud and are best replaced with newer models. But, if your furnace is less than 20 years old, you may notice an increase in noise after replacement. This is because the features that promote modern boiler efficiency cause a slight increase in noise.
Can I Use My Boiler to Cool my Home as Well?
While radiators can sometimes be used to cool a home, a boiler can't provide the cold water necessary. Though water chillers can be added to your system, this often leads to issues. For that reason, we suggest people in Chicago install a ductless AC system in conjunction with a boiler to get the best of both worlds.
What Brands of Boiler Does TDH Mechanical, Inc. Service?
Our radiant heating experts service all brands of residential boilers including Weil-McLain, Lochinvar, Utica, Buderus, Burnham, Slant/Fin, Peerless, and Triangle Tube in addition to those manufactured by major furnace manufacturers.
To What Temperature Should I Set My Boiler?
The average home sets their hydronic heating system at 180°F (82°C). But, during extreme weather, it can be raised as high as 210°F (99°C). If you use a combination boiler, that temperature range shifts from 140°F to 210°F (60°C to 99°C).